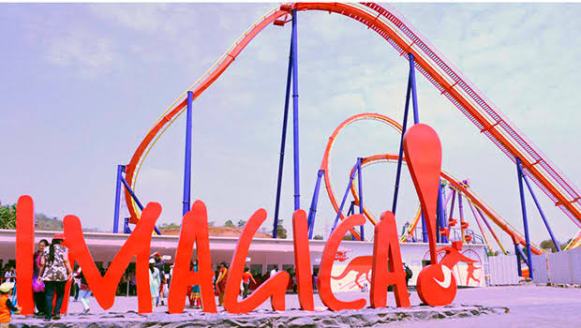 Unleashing the Magic of Imagicaa: Your Comprehensive Guide to an Unforgettable Adventure
About Imagicaa World Entertainment
Imagicaa World Entertainment, often hailed as India's answer to Disneyland, is a sprawling theme park located in the picturesque Khopoli region of Maharashtra. With its proximity to both Mumbai and Pune, it is a popular destination for families, friends, and thrill-seekers looking for a day of fun and excitement.
The park is divided into three main zones: Imagicaa Theme Park, Imagicaa Water Park, and Novotel Imagicaa, offering a diverse range of entertainment experiences. The Theme Park boasts of thrilling rides, immersive attractions, and live performances, while the Water Park is a haven for those who love splashing around and cooling off. Novotel Imagicaa is the onsite hotel for guests who wish to extend their stay and enjoy the park at a leisurely pace.
Accessibility is straightforward, with regular bus services from Mumbai and Pune. For those driving, there's ample parking available on-site. The park also offers pick-up and drop services from nearby cities, making it a hassle-free day out.
In the following sections, we will delve deep into the specifics of the park's many offerings and provide an unbiased review of the overall visitor experience at Imagicaa World Entertainment.
Park Attractions
Imagicaa World Entertainment offers a plethora of attractions that cater to all age groups and preferences, ensuring there's something for everyone.
The Theme Park is packed with 26 world-class rides and attractions. It offers a perfect blend of adrenaline-pumping thrill rides, family-friendly attractions, and immersive experiences that transport you to different worlds. Some of the standout attractions include 'Nitro', India's biggest and wildest roller coaster, the 'Rajasaurus River Adventure' which combines a thrilling ride with an encounter with dinosaurs, and 'Ali Baba Aur Chalis Chorr', a unique 4D dark ride that takes you through the classic Arabian Nights tale.
For those who prefer a more laid-back experience, the park also offers several gentler rides and attractions. 'Tubbby Takes Off' is a merry-go-round style ride perfect for young kids, while the 'I For India' offers a breathtaking aerial tour of India's most iconic landmarks in a simulated flight experience.
The park also has a dedicated zone for younger kids called Imagicaa BJunior, where they can enjoy age-appropriate rides and meet their favorite characters from popular children's shows.
The Water Park is a great place to beat the heat with a range of water-based attractions. From high-speed water slides like the 'Loopy Woopy' and the 'Swirl Whirl' to the relaxing 'Floatsa' lazy river, there's something for every water lover. There's also a wave pool and a kiddies pool for the little ones.
Apart from the rides and attractions, Imagicaa also hosts live performances and shows throughout the day, adding an extra layer of entertainment to your visit. These include street performances, magic shows, acrobatic displays, and dance performances.
It's worth noting that the availability of attractions can change based on factors like maintenance schedules and weather conditions, so it's a good idea to check the park's official website or contact them directly for the most up-to-date information.
Facilities
Imagicaa World Entertainment offers a wide range of facilities to ensure a comfortable and enjoyable experience for all its guests.
Restrooms and Changing Rooms: The park is equipped with clean and well-maintained restrooms located at convenient intervals throughout the park. The restrooms are regularly cleaned and sanitized for the safety and comfort of the visitors. In addition, the Water Park also has changing rooms and shower facilities for guests to use before and after enjoying the water attractions.
Lockers: For the security of your personal belongings, the park provides locker facilities at a nominal charge. These lockers can be found near the entrance and at various locations within the park.
First Aid Stations: Safety is a top priority at Imagicaa. The park has several first aid stations staffed by trained medical professionals ready to provide immediate assistance in case of any health emergencies or minor injuries.
Accessibility Features: Imagicaa is committed to providing an inclusive and accessible environment for all its visitors. The park offers wheelchair rentals for guests with mobility issues, and most of the park's attractions, restaurants, and restrooms are designed to be wheelchair accessible.
Parking and Transportation: The park provides ample parking space for visitors who choose to drive to the park. Shuttle services are also available from key locations in Mumbai and Pune, making it convenient for those who prefer not to drive.
Shopping and Souvenirs: If you want to take home a memento of your visit, there are several stores throughout the park selling official Imagicaa merchandise, including apparel, toys, and other collectibles.
Baby Care Facilities: For visitors with infants, the park provides baby care facilities where parents can attend to their little ones' needs in privacy and comfort.
These facilities, combined with the helpful and attentive park staff, contribute to a seamless and worry-free experience at Imagicaa World Entertainment.
Visitor Experience
The visitor experience at Imagicaa World Entertainment is designed to be immersive, exciting, and memorable for all ages. From the moment you step through the entrance, you are transported into a world of fantasy and adventure.
Ease of Navigation: The park is well planned and easy to navigate with clear signage and maps available at the entrance and throughout the park. The layout of the park ensures that you can easily move from one attraction to another without wasting much time.
Quality of Attractions: The rides and attractions at Imagicaa are of high quality, well maintained, and offer a good balance of thrill, fun, and entertainment. The variety ensures that there's something for everyone, whether you're a thrill-seeker, a family with young children, or someone who prefers more relaxed attractions.
Staff Interaction: The staff at Imagicaa are often praised for their friendliness and professionalism. They are readily available to assist with any queries, provide guidance, and ensure safety regulations are followed on all rides.
Food and Beverage: There are numerous dining options available within the park, serving a variety of cuisines to cater to different tastes. The food is generally reported to be of good quality, although prices can be slightly higher than outside the park, which is standard for most theme parks.
Cleanliness and Maintenance: The park is clean and well-maintained, with regular cleaning schedules ensuring a pleasant environment. The rides and facilities are also regularly checked for safety and performance.
Overall Satisfaction: Most visitors report a high level of satisfaction with their visit to Imagicaa. The combination of thrilling rides, entertaining shows, and excellent facilities contribute to a fun-filled day out.
However, like any popular tourist destination, Imagicaa can get crowded, particularly during weekends and holidays, which can lead to long wait times for some attractions. It's recommended to plan your visit on weekdays or off-peak times if possible, and consider purchasing Fast Track tickets to skip the queues.
In conclusion, Imagicaa World Entertainment offers a comprehensive entertainment experience that is likely to leave you with fond memories and a desire to return.
Customer Service
At Imagicaa World Entertainment, customer service is at the heart of their operations. The park's team is dedicated to ensuring that every visitor has a positive and memorable experience.
Staff Training: Each member of the Imagicaa team undergoes rigorous training to ensure they can provide the highest level of service. They are knowledgeable about the park's attractions and facilities and are equipped to answer any queries you might have.
Courtesy and Friendliness: Staff at Imagicaa are known for their friendliness and courtesy. They are always ready with a smile and a helpful attitude, ensuring that every interaction adds to your positive experience at the park.
Problem Resolution: Should any issues arise during your visit, the customer service team at Imagicaa is prompt in addressing and resolving them. Whether it's a minor issue like lost property or a larger concern, they handle it efficiently and professionally.
Accessibility Services: In line with their commitment to inclusivity, the customer service team is well-versed in the park's accessibility features and services. They can provide guidance and assistance to guests with disabilities to ensure they enjoy their visit to the fullest.
Feedback Mechanism: Imagicaa values the feedback of its visitors. There are several channels through which you can share your experiences and suggestions, including feedback forms at the park and online surveys post-visit. This feedback is taken seriously and used to continually improve the park's offerings and customer service.
Communication: The park ensures clear and timely communication with its visitors. This includes providing detailed information about the park's attractions, facilities, and safety regulations, as well as updates about any changes in opening hours, ride closures, or special events.
Overall, Imagicaa's customer service aims to exceed expectations and contribute to a pleasant and hassle-free experience for all visitors. From the moment you arrive to the moment you leave, you can expect high-quality service that puts your needs and satisfaction first.
Food and Beverage Options
Imagicaa World Entertainment offers a wide array of food and beverage options to cater to the diverse tastes and preferences of its visitors. Whether you're looking to grab a quick snack between rides or sit down for a leisurely meal, there's an option for everyone.
Restaurants and Cafes: The park houses several restaurants and cafes, each offering a unique dining experience. From casual fast-food joints to themed restaurants, there's a variety of cuisine to choose from including Indian, Chinese, Italian, and Continental.
Food Kiosks: For those who prefer to grab a quick bite on the go, there are numerous food kiosks scattered throughout the park. These offer a range of snacks such as sandwiches, burgers, hot dogs, popcorn, ice cream and more.
Beverage Stations: Staying hydrated is important, especially on hot days. Beverage stations are conveniently located around the park, offering a range of drinks from bottled water and soft drinks to fresh juices and smoothies.
Special Dietary Needs: Imagicaa understands that some guests may have special dietary needs due to allergies, health conditions, or personal preferences. Many of the food outlets within the park offer vegetarian, vegan, gluten-free and other diet-friendly options.
Quality and Safety: The park maintains high standards of quality and safety when it comes to its food and beverages. All eateries follow strict hygiene protocols and the food is prepared using fresh ingredients.
Pricing: As with most theme parks, the pricing of food and beverages at Imagicaa is slightly higher than what you might find outside. However, considering the convenience and the variety of options available, most guests find it reasonable.
In conclusion, the food and beverage offerings at Imagicaa World Entertainment add to the overall visitor experience, ensuring that your taste buds are just as entertained as the rest of you. Whether you're a foodie looking to explore different cuisines or someone seeking familiar comfort food, there's something for everyone.
Entertainment and Leisure Activities
Imagicaa World Entertainment is not just about thrilling rides and attractions. It also offers a diverse range of entertainment and leisure activities that cater to visitors of all ages and interests.
Live Shows: One of the highlights of a visit to Imagicaa is the opportunity to watch live performances. These range from musical shows and dance performances to magic acts and theatrical plays. The shows feature talented performers and are designed to captivate and entertain audiences.
Character Appearances: Imagicaa is home to several unique characters who roam around the park, interacting with visitors. These character appearances provide fun photo opportunities and make the park experience more immersive, especially for young children.
Themed Areas: The park features several themed areas, each designed to transport visitors into different worlds. From the whimsical streets of Imagicaa Capital to the adventurous landscapes of Salimgarh, these areas offer unique experiences and plenty of leisurely exploration.
Events and Festivals: Imagicaa regularly hosts special events and festivals. These could be seasonal celebrations like Christmas or Diwali, special occasions like Children's Day, or unique events like a summer splash party. These events often include additional entertainment options like parades, fireworks, special shows, and themed activities.
Relaxation Spaces: Amidst all the excitement, the park also offers several spaces for relaxation. There are beautifully landscaped gardens and seating areas where you can take a break, enjoy a meal, or simply soak in the atmosphere.
Shopping: For those who love shopping, there are several retail outlets within the park. These offer a range of products from clothing and accessories to toys, souvenirs, and Imagicaa-branded merchandise.
Photography Services: To help you capture the memories of your visit, Imagicaa provides professional photography services. Photographers are available at key locations to take high-quality photos, which you can purchase as keepsakes.
In conclusion, the entertainment and leisure activities at Imagicaa World Entertainment go beyond the traditional theme park experience. They offer numerous ways to enjoy your visit, whether you prefer high-energy activities, relaxed exploration, or a bit of both.
Best Time to Visit
Choosing the best time to visit Imagicaa World Entertainment can greatly enhance your overall experience. The ideal time depends on several factors such as weather, crowd levels, special events, and personal preferences.
Weather: Being an outdoor theme park, the weather plays a significant role in determining the best time to visit Imagicaa. The park is located in Maharashtra, India, which experiences a tropical climate. The most pleasant weather is usually from October to February when it's winter in India. The temperatures are moderate and comfortable for enjoying outdoor activities.
Crowd Levels: If you prefer a less crowded environment, weekdays during the school term are usually quieter. Weekends and school holidays tend to be busier with more visitors. Also, consider avoiding public holidays when the park can get particularly crowded.
Special Events: Imagicaa hosts a variety of special events and festivals throughout the year. If there is a specific event you're interested in, such as their famous New Year's Eve celebration or Holi bash, plan your visit accordingly.
Off-Peak Discounts: Sometimes, visiting during off-peak times can also be beneficial in terms of cost. The park occasionally offers discounts on tickets and food during slower periods to attract visitors.
Personal Preferences: Finally, the best time to visit also depends on your personal preferences. If you don't mind the heat and prefer lesser crowds, the summer months could be ideal. If you want to experience the park at its most vibrant, visit during a festival or event.
In conclusion, while Imagicaa World Entertainment is open year-round and each season offers a unique experience, the best time to visit would ideally be during the cooler months, on a weekday, and possibly timed with an event of interest. However, no matter when you choose to go, the park promises a day full of fun and entertainment.
Ticket Prices
The ticket prices for Imagicaa World Entertainment vary based on the type of ticket, the day of the week, and any ongoing promotions or discounts. Here's a detailed breakdown:
Standard Tickets: These are the general admission tickets that provide access to all the rides and attractions within the park. As of my current knowledge up to September 2023, the standard ticket price for adults is around INR 1500 on weekdays and INR 1900 on weekends. For children, the prices are approximately INR 1200 on weekdays and INR 1500 on weekends.
Express Tickets: These tickets offer a premium experience by allowing faster access to the rides, thereby reducing wait times. Express tickets are priced higher than standard tickets. The exact pricing can vary, so it's best to check the official website for the most accurate information.
Combo Tickets: Combo tickets offer access to multiple parks within the Imagicaa complex, such as the Theme Park and Water Park. These tickets offer better value if you plan to visit more than one park during your trip.
Annual Pass: For frequent visitors, the annual pass offers excellent value. It provides unlimited access to the park for a whole year.
Special Offers and Discounts: Imagicaa often runs promotional offers and discounts. These could be seasonal offers, early bird discounts, group discounts, or special packages. It's worth checking the official website or contacting the park directly for any current deals.
Additional Costs: Please note that some attractions or experiences within the park may carry an additional cost. These could include special events, certain shows, or premium experiences. Food, beverages, and merchandise are also not included in the ticket price.
In conclusion, while the ticket prices for Imagicaa World Entertainment might seem varied, they offer flexibility and options to suit different budgets and requirements. Always check the official website or contact the park for the most up-to-date and accurate pricing information.
Planning Your Visit
To make the most out of your visit to Imagicaa World Entertainment, it's essential to plan ahead. From knowing about the park's layout to deciding on what attractions to see, here are some tips to help you prepare:
Check Park Timings: Before setting off, check the park's operating hours for the day of your visit. The park usually opens at 10:30 AM and closes at 8:00 PM, but timings can vary, especially during special events or holidays.
Purchase Tickets in Advance: To avoid long queues at the ticket counters, consider buying your tickets online in advance. This also gives you a chance to avail of any early bird discounts or online-exclusive deals.
Plan Your Itinerary: Take some time to research and decide which attractions you want to visit. Prioritize them based on your interest, and remember to account for wait times, especially for popular rides.
Dress Comfortably: Since you'll be spending the day exploring the park, wear comfortable clothes and shoes. If you plan to try water-based rides or visit the Water Park, pack an extra set of clothes.
Pack Essentials: Carry essentials like sunscreen, hats, sunglasses, and a reusable water bottle. If you're visiting with kids, remember to pack their necessities too, such as snacks, diapers, and a stroller.
Food and Beverages: There are several restaurants and food kiosks throughout the park offering a variety of cuisines. However, if you have specific dietary requirements, it might be a good idea to check the available options beforehand.
Safety Measures: Follow all safety instructions provided for each ride. If you're visiting with children, keep an eye on them at all times and ensure they meet the height and age requirements for the rides.
Rest and Hydrate: Lastly, remember to take breaks and stay hydrated. It's easy to get caught up in the excitement and forget to rest, but pacing yourself will ensure you enjoy the experience without getting too tired.
In conclusion, a well-planned visit can significantly enhance your experience at Imagicaa World Entertainment. So take the time to prepare and look forward to a day of fun-filled adventure!
Conclusion
To sum up, Imagicaa World Entertainment is a comprehensive destination for all sorts of fun, thrill, and entertainment. With its diverse range of attractions, it caters to people of all age groups, making it an ideal spot for family outings, friend groups, and even corporate events.
The park's unique blend of Indian culture with international standards sets it apart from other amusement parks in the country. Whether you are a thrill-seeker looking for adrenaline-pumping rides, a family wanting a fun day out, or an individual seeking a magical escape from the mundane, Imagicaa has something for everyone.
The best time to visit depends on your personal preferences, but generally, the cooler months provide a more comfortable experience. Ticket prices offer flexibility and various options to suit different needs and budgets, and can be purchased in advance for convenience.
Planning your visit is crucial to make the most of what the park has to offer. From preparing an itinerary to packing essentials, a little planning can go a long way in ensuring a smooth and enjoyable visit.
In conclusion, Imagicaa World Entertainment offers an unmatched amusement park experience. It promises a delightful mix of entertainment, excitement, and education, ensuring that every visitor leaves with a smile on their face and memories to cherish. So buckle up and get ready for an unforgettable adventure at Imagicaa!